(CNN) -- A reshaped Republican presidential race shifted to New Hampshire on Wednesday as Mitt Romney won the endorsement of an old rival and Michele Bachmann dropped out after a disappointing Iowa showing.
Sen. John McCain, the New Hampshire primary winner in 2000 and 2008, told supporters of Romney, that their votes "will catapult him on to victory in a very short period of time."
"Mitt Romney and I and you believe that America's greatest days are still ahead of us," said the Arizona senator, who beat Romney for the 2008 GOP presidential nomination. "It just requires the kind of leadership to put us back in the position that made America the greatest and noblest experiment in the history of the world -- and the person who will do that is right here with you today."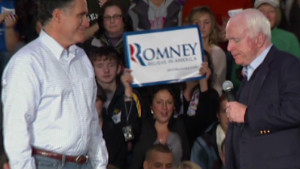 McCain endorses Mitt Romney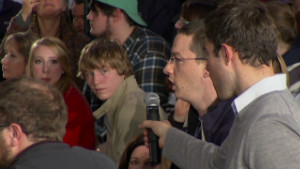 Romney endures harsh questions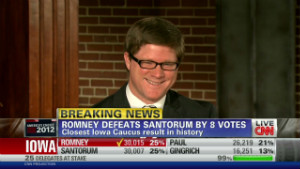 Does the New Hampshire primary matter?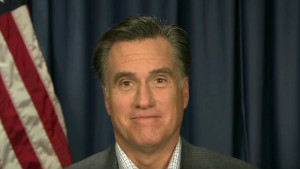 Romney: 'Mr. President, you failed'
Romney edged out late-surging former Pennsylvania Sen. Rick Santorum by eight votes in Tuesday night's Iowa caucuses, with each taking 25% of the ballots cast. Texas Rep. Ron Paul placed third at 21%, with former House Speaker Newt Gingrich coming in fourth at 13%.
"My goodness, what a squeaker," Romney told supporters in his Manchester appearance with McCain. "But it sure is nice to have a win, I'll tell you. The question I have for you is, can we do better here in New Hampshire?"
Santorum used fresh momentum from his virtual tie to position himself as Romney's main conservative challenger on Wednesday. His website automatically took visitors to a donation page celebrating the "Iowa Surprise."
Paul used his showing as fuel for his libertarian anti-establishment message after Iowa, while Texas Gov. Rick Perry said he would press on to "places where they have actual primaries" after his fifth-place finish Tuesday night.
Next Tuesday's New Hampshire primary appears to be Romney's to lose. The former Massachusetts governor benefits from a virtual favorite-son status there, not to mention a significant advantage in terms of campaign cash and organization. He is far ahead in most recent statewide polling and can now boast of a first-place finish in the Iowa caucuses, albeit by a razor-thin eight-vote margin.
As the rest of the GOP field packed up and left Iowa, Bachmann remained behind to announce her exit from the race. The Minnesota congresswoman drew 5% of the vote in her native state Tuesday night.
"Last night, the people of Iowa spoke with a very clear voice," Bachmann told supporters in West Des Moines. "So I have decided to stand aside."
Bachmann had been scheduled to campaign Wednesday in South Carolina, where she was banking on influential evangelical voters, the same group that failed to rally behind her in Iowa.
Stumping New Hampshire, Gingrich praised Bachmann as "courageous" but quickly turned his fire on Romney, whose supporters pounded him in Iowa with critical television ads. He told reporters in Concord that Romney would "do fairly well here" but mocked him for spending millions of dollars to win an eight-vote victory in Iowa.
"Somebody just sent me an e-mail a few minutes ago saying his 66 additional votes over 2008 came at a cost of about $100,000 a vote," Gingrich said. And after all that, "The fact is three out of four Republicans rejected him."
Also waiting for Romney in New Hampshire: former Utah Gov. Jon Huntsman, who skipped Iowa and has focused all his hopes on the small New England state.
Meanwhile, after taking a night to rethink his campaign, Perry announced to supporters via Twitter that he would stay in despite his 10% showing in Iowa.
"The next leg of the marathon is the Palmetto State ... Here we come South Carolina!!!" he tweeted.
He told reporters later that he would take part in two debates in New Hampshire and campaign in South Carolina, which holds the first Southern primary on January 21.
"This is a quirky place, and a quirky process, to say the least," Perry said of Iowa. "We're going to go into places where they have actual primaries, and there are going to be real Republicans voting ... not that there aren't real Republicans in Iowa, but the fact is, it was a pretty loosey-goosey process, and you had a lot of people there who admitted they were Democrats voting in the caucuses last night."
Santorum told CNN's Wolf Blitzer early Wednesday that he's a "little bit behind the curve in the sense that Gov. Romney has been spending a lot of money and a lot of time up (in New Hampshire) and has been running for six years."
"But we feel like we can go up there and compete," he said. "New Hampshire is all about grass-roots politics, and we feel very good that we are going to climb that ladder, just like we did" in Iowa.
Paul, meanwhile, said his success in Iowa shows "the message of liberty is appealing to everybody across the board."
In New Hampshire, he said, "I think we're going to have some momentum and we're going to continue to do what we're doing. It's a 'live free or die' state. They're very freedom-oriented, and that message will spread there. And I'm confident we will do quite well."
Are you in New Hampshire, Iowa? Share your images, stories
While a number of observers predicted a close finish in Iowa, few expected the margin between the top two finishers to be as historically close as it was.
The narrowest previous margin of victory in a GOP presidential contest was 257, when Alf Landon won the 1936 South Dakota primary. In 2008, Obama earned the closest margin in a U.S. presidential contest, defeating Hillary Clinton by seven votes in the Guam caucus.
Of the 25 pledged delegates at stake in Iowa, CNN estimated that Romney, Santorum and Paul are each projected to have won seven, with Gingrich and Perry winning two. It will take 1,144 delegates to win the nomination at the Republican National Convention in Tampa, Florida, this summer.
One issue to watch on the Republican side will be how many supporters of less-successful candidates latch on to the remaining non-Romney candidates, said CNN political contributor Ari Fleischer, who was a White House press secretary under President George W. Bush.
"Mitt Romney doesn't want anybody to drop out," Fleischer said Tuesday, suggesting that Romney would want to have any anti-Romney vote split as many ways as possible. "Rick Santorum wants everybody to drop out."